Many thanks to the Newman Center for the Performing Arts for the use of Hamilton Hall for our Instrument Presentation Event. Enthusiastic teachers hopped up on the stage for a photo opportunity marking the occasion. These smiling faces are just a small representation of the overall excitement shared by the 52 deserving music programs selected as 2023/2024 instrument awardees. Soon it will be their students on stages throughout Colorado bringing music to their communities!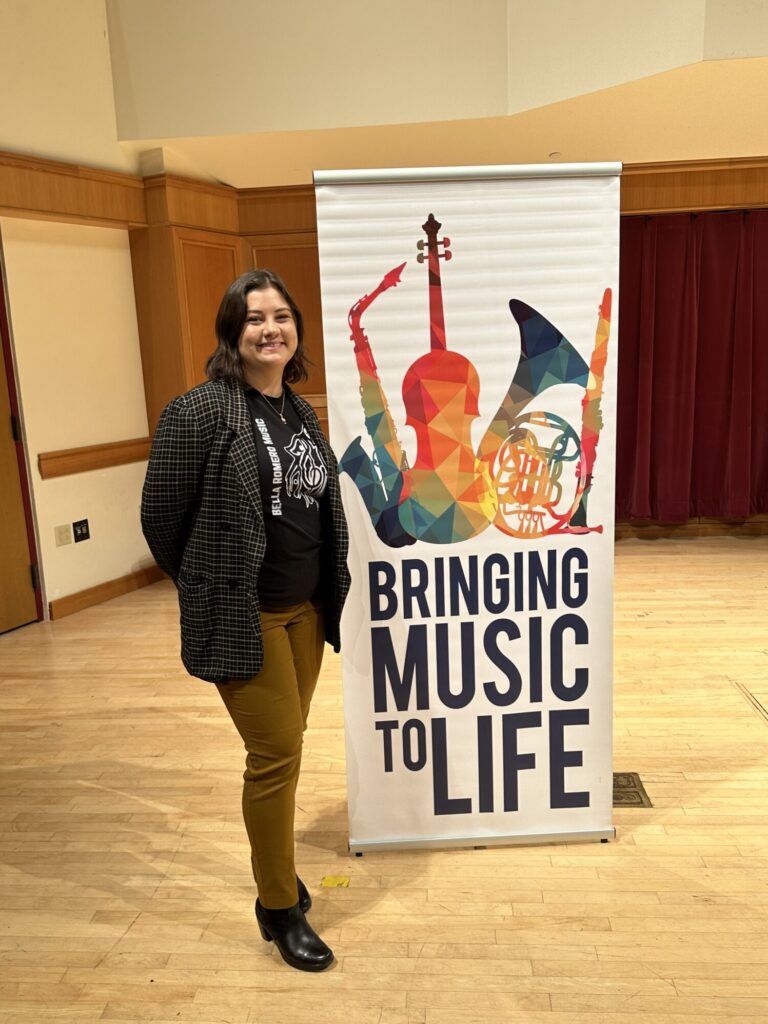 Here is the complete list of schools selected to receive instruments. We thank all of the music educators at all of these locations for ALL THAT THEY DO.
We do what we do because of them and their students. We can't do what we do without them!
| | |
| --- | --- |
| MUSIC PROGRAM | SCHOOL DISTRICT |
| Abraham Lincoln HS | Denver Public Schools |
| Adams City MS | Adams County School District 14 |
| Adams City HS | Adams County School District 14 |
| Alameda International | Jeffco Public Schools |
| Arvada K-8 | Jeffco Public Schools |
| Aurora Science and Tech | DSST Public Schools |
| Bear Creek K-8 | Jeffco Public Schools |
| Bennett MS | Bennett School Dristrict 29 |
| Bennett HS | Bennett School Dristrict 29 |
| Bella Romero Academy | Greeley Schools |
| Bookcliff MS | Mesa County Valley School District 51 |
| Canon Exploratory school | Canon Cty Schools |
| Carmody MS | Jeffco Public Schools |
| Casey MS | Boulder Valley School District |
| Creighton MS | Jeffco Public Schools |
| DCIS Fairmont | Denver Public Schools |
| Denver North HS | Denver Public Schools |
| DSST – Cole Campus | DSST Public Schools |
| DSST Conservatory Green MS | DSST Public Schools |
| Elbert | Elbert School District 200 |
| Ellicott | Ellicott Shool District 22 |
| Ersilia Cruz MS | Chavez Huerta Preperatory Academy Pueblo |
| Everitt MS | Jeffco Public Schools |
| Foster Dual Language PK-8 | Jeffco Public Schools |
| George Washington HS | Denver Public Schools |
| Grant Beacon MS | Denver Public Schools |
| Hamilton MS | Denver Public Schools |
| Harrison K-8 | Canon Cty Schools |
| Jefferson Jr./Sr. HS | Jeffco Public Schools |
| Latino Cultural Arts Center | Music @ Kalamath |
| Manuel HS | Denver Public Schools |
| Mapleton School District | Mapleton Public Schools |
| Marie L Greenwood Academy | Denver Public Schools |
| McElwain Elementary | Adams 12 Five Star Schools |
| Montezuma-Cortez MS | Montezuma-Cortez School District |
| North Arvada MS | Jeffco Public Schools |
| Orchard Park Academy | Westminster Public Schools |
| Otho E. Stuart MS           | Adams County School District 27J |
| Overland Trail MS | Adams County School District 27J |
| Prairie View MS/HS | Adams County School District 27J |
| Rocky Ford Jr./Sr. HS | Rocky Ford School District |
| Roncalli Stem Academy | Pueblo School District 60 |
| Sabin World School | Denver Public Schools |
| Sangre de Cristo | Sangre De Cristo School District |
| Sierra Grande | Sierra Grande Schol District |
| Skinner MS | Denver Public Schools |
| Skyline HS | St. Vrain Valley School Districting |
| Soaring Eagle | Harrison School District 2 |
| Stratton Jr./Sr. HS | Stratton Schhol District 4 |
| Timberline PK-8 | St. Vrain Valley School Districting |
| Vikan MS | Adams County School District 27J |
| Vineland MS | Pueblo School District 70 |
| Westminster HS | Westminster Public Schools |