Providing every child access to the life-changing experience of making music.
HELPING STUDENTS IMPACTED BY THE MARSHALL FIRES
Working with the Boulder Valley School District and our repair partner, CIOMIT, Bringing Music To Life is making instruments available to many students who lost theirs in the 

Marshall fires.

  Our first delivery of a dozen refurbished instruments will be made in mid-January.

By the end of the month, 40 or so young musicians whose instruments were lost to fire will have newly restored instruments to play
.

 We are not asking for donations of instruments at this time, since we still have a number of instruments from last year's drive. Donations to our instrument repair fund, however, are most welcome.
---
---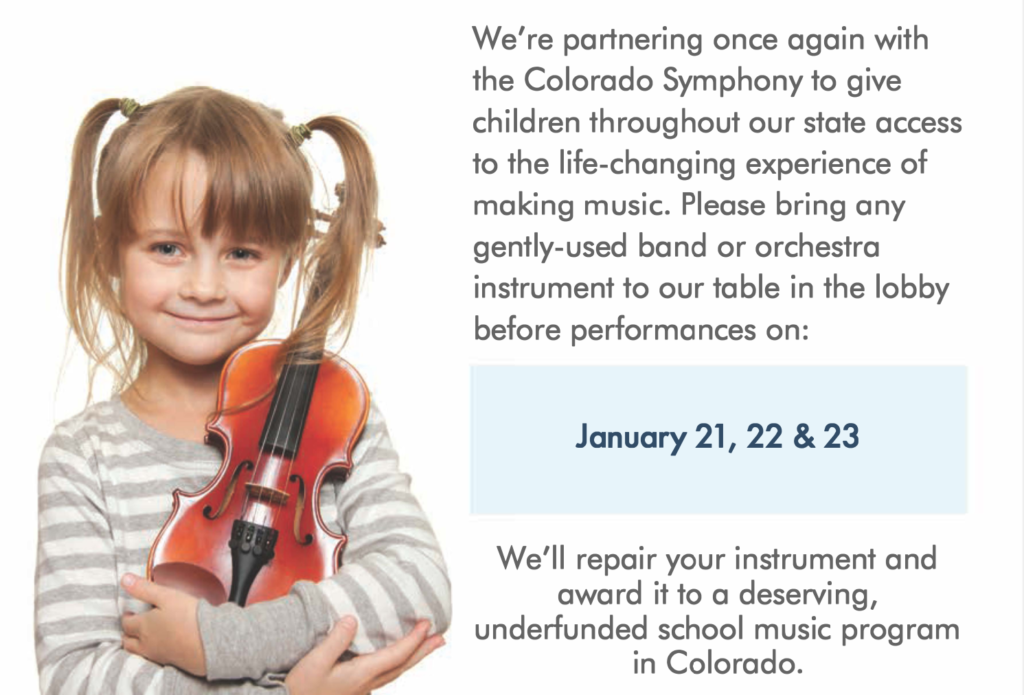 Come to a designated instrument-donation concert and leave that instrument you no longer play with us. Because the instruments we repair and then distribute across the state remain with the music programs, each has the potential to benefit as many as 10 students. Therefore, when we give your old instrument new life, you change the lives of many music students for many years to come!
JOIN US for these UPCOMING CONCERTS:
Tchaikovsky Symphony No. 5
Join guest conductor Peter Oundjian in a revival of Tchaikovsky's unforgettable Fifth Symphony. As intensely dramatic as any of Tchaikovsky's other major works, the Fifth belies the composer's fragile mental state in a work that portrays a triumphant struggle against fate.
January 21 7:30pm
January 22 7:30pm
January 23 1:00pm
See you at the Symphony!