Providing every child access to the life-changing experience of making music.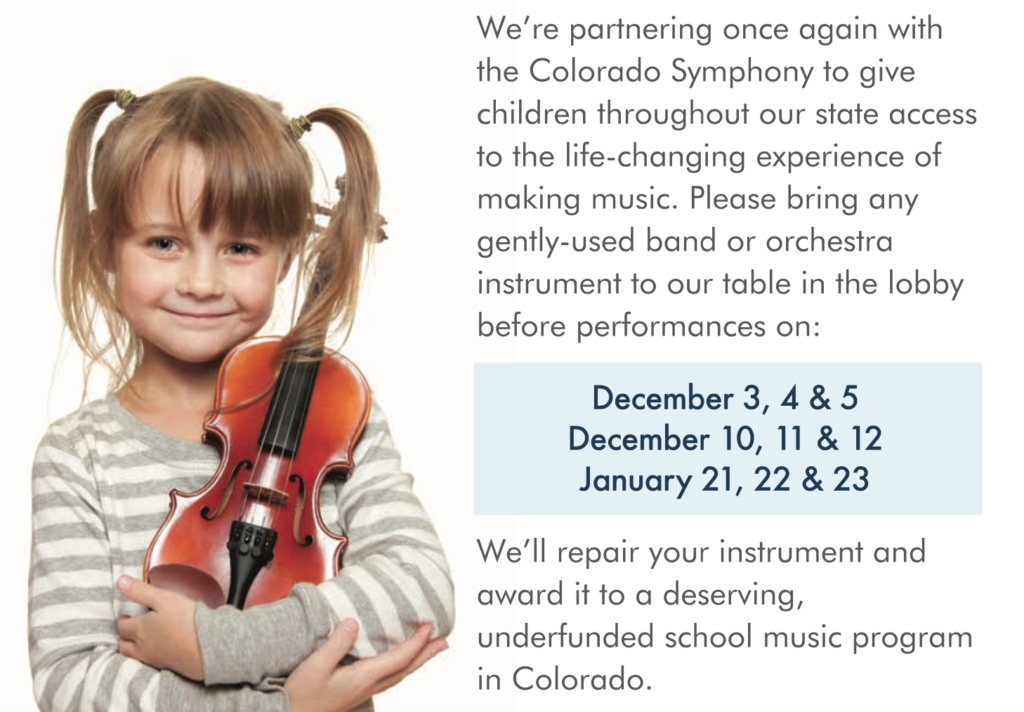 Come to a designated instrument-donation concert and leave that instrument you no longer play with us. Because the instruments we repair and then distribute across the state remain with the music programs, each has the potential to benefit as many as 10 students. Therefore, when we give your old instrument new life, you change the lives of many music students for many years to come!
JOIN US:
Elgar Enigma Variations
Resident Conductor Christopher Dragon lends his patented zeal to this program highlighted by Elgar's Enigma Variations, wistfully portraying a host of the composer's friends, family and acquaintances in an emotional journey through tenderness, bluster, and melancholy.
December 4 7:30pm
December 3 7:30pm
December 5 1:00pm
A Colorado Christmas
The warm sounds of the holidays fill the Hall with festive seasonal favorites including 'Twas the Night Before Christmas,' narrated live from the stage by beloved Denver vocalist Devin DeSantis!
December 10 7:30pm
December 11 2:30pm and 6:00pm
December 12 1:00pm
Tchaikovsky Symphony No. 5
Join guest conductor Peter Oundjian in a revival of Tchaikovsky's unforgettable Fifth Symphony. As intensely dramatic as any of Tchaikovsky's other major works, the Fifth belies the composer's fragile mental state in a work that portrays a triumphant struggle against fate.
January 21 7:30pm
January 22 7:30pm
January 23 1:00pm
See you at the Symphony!