Providing every child access to the life-changing experience of making music. 

Once again, the Colorado Symphony is partnering with us for Donation Concerts. Please bring instruments you wish to donate to our table in the lobby of Boettcher Concert Hall before performances on Dec 22, and Jan 24, 25, 26.
Thanks for your donations on Colorado Gives Day.

We raised more than $3,500 !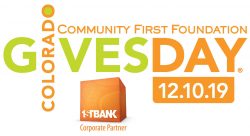 As a result of our 2019 Instrument Drive, we awarded 684 instruments to 46 elementary, middle and high schools in Colorado. Our 2020 drive is set for March 2-15.
---
Read the latest issue of our newly introduced e-newsletter QUARTER NOTES 
As a result of our past nine instrument drives, many thousands of students in more than 230 schools and programs throughout Colorado have learned to play music. You'll find the list of schools and communities by clicking here.

We're delighted to have Music Director Brett Mitchell and the Colorado Symphony supporting our cause. They are great proponents of music in the schools, as you'll see in this video.
Bringing Music to Life is a project of the Colorado Nonprofit Development Center